Gain the clarity and confidence to create your life on your terms
Get started immediately with this self-study program. Includes lifetime access.
Boundaries are so fundamental to every aspect of our lives, that mastery over them is the fastest place of transformation for every one of us. When we're clear on our boundaries, we know how to meet life in the midst of fear, overwhelm, and grief; we're less derailed by what life throws at us; we have happier, healthier relationships, more fulfilling careers, and make better life decisions.
But traditional boundary work has been very limited in what it offers, focusing mostly on determining what we don't want in our lives and learning to say no, when the beauty and power of boundaries extends far beyond this, into realms of unimaginable possibility and creation in our lives.
Join me for Beyond Boundaries, a 4-week, online, self-study program, where we'll immerse ourselves in the beauty and possibility of boundaries, and you'll learn:
What you want; what you really want and how to distinguish between your yes, no and I don't know…yet
How to access and understand the full spectrum of boundaries — from your non-negotiables, to boundaries created from desire
Real life practices to set and hold these boundaries in a way that others honor
How to respond in the moment with grace and ease, as issues with boundaries arise
How to use boundaries to navigate the world with ease and confidence and turn overwhelm into clarity
The difference between learning to say no, and creating boundaries from your deepest desire (and how this eliminates chronic life and relationship dissatisfaction)
A much larger perspective than what is being taught in traditional boundary work—one that will eliminate any hesitation you have about the power of boundaries in your life
Many of us struggle with boundaries, often without even knowing it.
We find ourselves having the same conversations, conflicts or issues with our bosses, intimate partners and family members, chronically unable to resolve them. We end up in jobs, relationships or situations, confused about how we got there. We find ourselves constantly tolerating other people's behavior, leaving us resentful and unhappy in our relationships. These are all boundary issues.
"The kind of clarity boundaries bring at an energetic, relational and physical level, allows people to meet life without overwhelm, in a world that's only getting more overwhelming by the minute."
We see boundaries in nature, everywhere. They are not a human invention & none of us are meant to live without them.
Rivers, cliffs, mountains, oceans, and lakes all form dileanting lines between ecosystems, allowing for different kinds of life to grow.
What grows in the rocky, watery shore of a river is different to what grows in the field just five feet away. This is what boundaries do in the lives of human beings also—they allow different kinds of life to grow. Boundaries are the result of a generative source of sacred delineation between different parts of our lives.  Rather than limiting us, creating clear and strong boundaries allows a diverse, abundant variety of life to grow, in an interconnected way, that fortifies us, leaving us much happier and more fulfilled than we could ever be without them.
"I always associated boundaries to something negative but in nature I see them as beauty, the shape of a stone, of a leaf, of a tree, of a cliff, I'm always in awe when I detail the shapes of the elements in nature. I guess I should do the same with myself :)"
Traditional boundary work tends to be static.
In the same way the ocean dances with the shore, our boundaries can and must shift and change also.
We tend to think that once we've set a boundary it can never change, or that it must be the same with every person and in every area of our lives. But the truth is, we live in a dynamic, ever-changing world where water carves away at rock, sand erodes the ocean shores, and mountains shift according to the tectonic plates of the earth—shifting boundaries are part of the dance of creation, both on the earth and in our lives. When we focus too much on static boundaries, we become fixed in reaction to what we think is  being offered, rather than being in a creative or generative place about what we actually want.
Generative boundaries, on the other hand, are intentional and adaptive.
They arise from a place of deep desire—for what we want to experience, how we want to live, who and what we want to be in the world.
Generative boundaries focus on delineating between the different ecosystems we want to create in our lives. When we create boundaries in this way, life becomes more like a buffet, where everything is available, rather than a limited menu, where we are just trying to find the one thing that won't activate our food allergies, even if we don't like it.
Get started immediately with this 4-week, online, self-study program. Includes lifetime access to course materials.
What Does The Program Include?
4 Teaching and Practice Modules:

Available to you forever, so you can continue to refer back to them whenever you need. Boundaries are a life-long practice of constant engagement and re-evaluation, and this video series is a tool that will last you a lifetime. 

Each module will include

specific practices to apply the teachings of the module to your real life.

Private podcast feed: Listen to the course content on-the-go with your favorite podcast app. New "episodes" are automatically sent right to your phone.
Practical tools

to put into action immediately….and use for the rest of your life.

Guided inquiries

to discover both your true boundaries and your heartfelt desires

Resources

for further study and  practice.
Includes lifetime access, so you can continue to refer back to the material whenever you need it.
What Are The Module Topics?
Module 1:
Boundaries as a Sacred Act of Love 
In this module, I will teach you how boundaries can actually create more intimacy, rather than separation.  We'll go over both the benefits and the limitations of traditional boundary education, as well as what it means to hold a boundary. You'll learn the characteristics of boundaries, and why getting in touch with your 'boundary line' experience is essential to expressing your fullest potential. We will distinguish between response-based non-negotiable boundaries and generative boundaries, as well as physical and energetic boundaries.
This module includes practices to help bring awareness to the boundaries that already exist in yourself & your life – so you can consciously choose them, or create new ones.
Module 2:
Personal Boundaries
In this module, I will teach you the importance of knowing your personal boundaries — and how personal boundaries are distinct from relational boundaries. You'll gain clarity and awareness of your unique personal boundaries and how you're currently relating to them in your lives. This includes delineating between your physical boundaries and energetic boundaries — as well as why both are important. You'll learn practices to discern between your 'yes', your 'no' and your 'I don't know' and gain clarity around what drains and nourishes you, as well as how chronic complaints can be an access point to discovering our personal boundaries. 
This module includes embodied practices for how to know and feel, moment to moment, how to discern what your boundaries actually are.
Module 3:
Relational Boundaries

In this module, you'll learn how to distinguish what your relational boundaries are, as well as why and how your boundaries shift with different people, and in different circumstances. We'll work with all relational areas in your current life, including  in the workplace, family, friends, as well as intimate partnerships. We'll distinguish the difference between setting boundaries and making requests, as well as tools for how to do both.
This module includes practices for how to set and hold boundaries so they are honored, as well as understanding the fluid dance of relational boundaries.
Module 4:
Generative Boundaries

In this module, you'll learn how desire relates to boundaries and why our creativity is intimately connected with boundary work along with how to shift from static, protective boundaries, to generative boundaries that support you in creating more of the life you most deeply desire. We'll explore what is possible when you create boundaries to bring in more of what you want — not just to keep out what you don't want.
This module includes practices for getting in touch with desires & dreams you may not even know you had, as well as how to create boundaries that support these dreams & desires.
Includes lifetime access, so you can continue to refer back to the material whenever you need it.
Boundaries already exist in our lives.
We live inside and outside of boundaries every day, whether we're aware of them or not. The difference is whether we're choosing them, or having them unconsciously put on us by others.  So join me for Beyond Boundaries, and get clear on what you want, and how to create it.
I can't tell you the amount of times I've heard someone say, I didn't even know this was a boundary issue.
This is the tricky thing about boundaries –  oftentimes we don't even know whether we need to work on them or not, which is why I advocate that every human on the planet learn boundary work. That being said, here are some of the identifying threads of someone who'd get a lot of benefit from boundary work:
If you didn't even realize you could have boundaries, have trouble knowing what you want.

If you are afraid other people will get mad if you set a boundary.

If you notice you're confused about how to distinguish between your

yes

& your

no

.

If you want more in your relationships than just a negotiation around what each of your boundaries are, and how to live with them. 

If you chronically experience other people crossing, or "not honoring" your boundaries.

If you often find yourself resentful of things you either "have to" or "can't do," based on external circumstances & people.

If you find yourself ending up in places, situations, relationships, with people, not quite sure how you got there.  

If you don't trust yourself to follow through on the things you say you will follow through on.

If you can fulfill commitments to other people but not yourself.
"The exercise to check my 'Yes' and 'No' is also illuminating. I could feel these before, but hadn't solidified their meaning, so now I can ask the question and connect the answers to the feeling. " —RH
What to Expect Upon Completion:
An understanding of how having, setting and holding boundaries is an act of love

More ease hearing and receiving other people's boundaries

Visceral clarity on your 'yes' and your 'no'

More awareness of where your boundaries already are

Practical tools for setting clear boundaries

Language and tools for setting boundaries in ways that others honor

More vitality

Practices you can use for the rest of your life

A feeling of ease, knowing that you can set clear boundaries anytime

Concrete awareness around what is needed to create the life you want

A feeling of safety in your own skin — no matter where you are

Knowing how to respond to anything life offers you, with clarity and authenticity

The capacity to generate the kind of relating you want, with the people you care about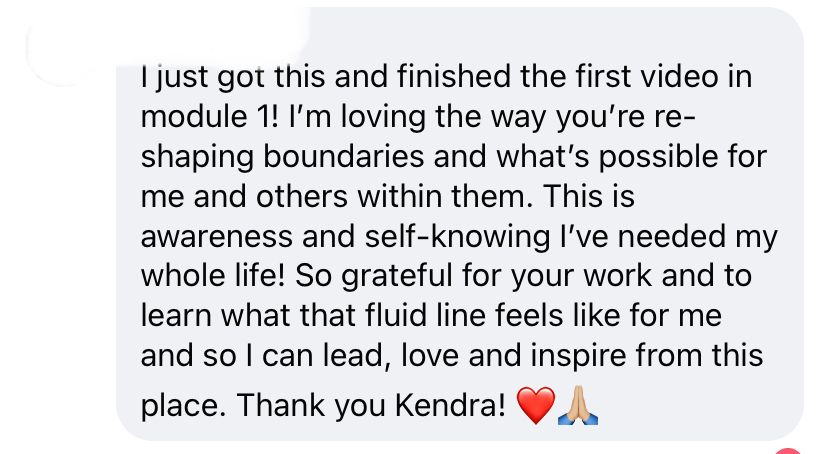 Includes lifetime access, so you can continue to refer back to the material whenever you need it.
Frequently Asked Questions
How long will I have access to the course materials?
Beyond Boundaries includes lifetime access, so you can continue to refer back to the material whenever you need it.
Is ALL the content available immediately?
No. You will have instant access to Module 1 and then the remaining modules are unlocked 1 week at a time.
This is intentional and by design — taking time to practice and integrate the concepts is what will allow you to make the shifts you desire.
Founder of The Collective: A Global Web of Women Devoted to Embodied Wholeness, Kendra Cunov has been studying, facilitating, and practicing authentic relating, embodiment practices and deep intimacy work for over fifteen years.
Kendra has worked with thousands of men, women and couples in the areas of embodiment, intimacy, communication and full self-expression. She co-founded Authentic World and Fierce Grace, as well as The Embodied Relationship Training Salon (with John Wineland), and pioneered some of the most cutting edge relational work on the planet.
She works with organizations and leaders, as well as men, women and couples, who know that embodied presence, truth, connection and integrity are our truest access points to success – in business and in love.